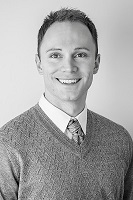 About Dr. Grant Sanders
Dr. Sanders, a Chagrin Falls resident, is pleased to serve patients and clients of the Chagrin Valley after extensive traveling for this education and training. Following his graduation from Kirtland High School, he earned a Bachelor's in Fitness Management with a Minor in Health Promotion from Baldwin Wallace University. During his junior year, he studied Exercise Science abroad at the University of Hull, in Kingston-Upon- Hull, England. He then attended New York Chiropractic College in Seneca Falls, New York, and after a year internship in Levittown, New York, earned a Doctor of Chiropractic (D.C.) degree. Dr. Sanders then earned a Ph.D. in Exercise Science at the University of Kentucky, with a concentration in exercise physiology. His research focused on the effects of spinal adjustments on physiological and biomechanical parameters related to athletic performance. Dr. Sanders then worked for nearly two years as a chiropractic associate at Active Chiropractic and Wellness in Chagrin Falls before opening his practice in Bainbridge Township.
In addition, Dr. Sanders is a Certified Strength and Conditioning Specialist (CSCS) through the National Strength and Conditioning Association (NSCA) and has designed exercise programs covering a wide range of health and fitness goals for athletes, clients, patients and friends. One of the most rewarding aspects of his job is sharing in others' joy when they achieve and maintain their goals with the guidance from his customized exercise consultations. Outside of the office, Dr. Sanders is engaged in community involvement as a guest speaker and volunteer at events throughout the year. He can also be found pursuing his own latest fitness goal, playing his guitar, spending time with family and friends and reading.